When a plunger or drain snake can't clear a stubborn clog, it's time to call in the big guns. Your plumber will first perform a video inspection and determine whether your pipes are in good condition to withstand the high water pressure of hydro jetting. If not, they'll snake the lines (a less intense method) or use an auger.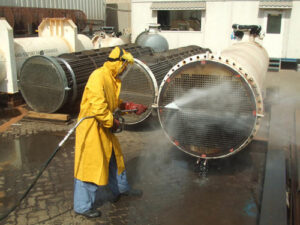 When it comes to hard-to-reach clogs and drain backups, nothing beats the power of Hydro Jetting Los Angeles. This method uses pressurized water to break apart and remove grease, sludge, mineral buildup, and even tree roots from your sewer drainage pipes.
It's safe for your pipes because it only uses pure water and no chemicals. The high-powered water jets will also not contaminate soil, groundwater, lakes, rivers, or streams. This makes it a great option for homes and businesses located near a water source. It's also eco-friendly, since it reduces the amount of debris and waste that ends up in our local waterways and landfills.
Because of the intense water pressure involved, it's important to hire a licensed and experienced plumber who has the right equipment for the job. A professional will also know how to operate the machine safely and efficiently, ensuring that it doesn't damage your pipes.
Before using the hydro jetting machine, the plumber will feed a camera into the pipes to get a better look at the clogs and what's causing them. This will help them determine whether it's a clump of solidified waste matter, a snarl of tree roots, or another issue. The video inspection will also allow them to spot any sections of pipe that are in poor condition and may need to be replaced.
Once the plumber finds the perfect place to insert the hose, they'll begin shooting the water jets. The forward-facing nozzle will shoot the high-powered water at the clog, and the backward-facing nozzles will sweep the debris away while blasting the pipe walls clean. This process is a quick and easy way to clear out the toughest of clogs, preventing future blockages from forming.
While hydro jetting is safe for most pipes, it's not recommended for old or corroded metal pipes. The high water pressure can cause them to burst, which is why it's always best to leave this type of work to a professional. If you have a recurring problem with slow drains or clogged pipes, contact us for a hydro jetting service today. We'll include a free video inspection and 90-day warranty with every job.
It's Effective
With a powerful blast of water, Hydro Jetting eliminates blockages and keeps pipes clean for years. Unlike plungers and plumbing snakes, which can only push clogs deeper into the pipes, Hydro Jetting clears them out entirely, leaving your drains and sewer lines clean and free of obstructions. The high-pressure water also knocks away bacteria growth and leaves your pipes looking like new.
Severe clogs aren't just annoying: they can cause damage to your pipes, affect your water pressure and even lead to sewage backups and flooding. Hydro jetting can remove these clogs quickly and effectively, so you can return to your normal life.
When regular methods of drain cleaning, such as snaking, don't work, it's time to call in the big guns. Hydro jetting uses an immense amount of power to blast through the blockage, but it's safe for your pipes as long as your plumber is careful. Before they start, they'll use a video inspection to determine the severity and location of the clog and to make sure your pipes can handle the water pressure.
If they determine that your pipes are prone to damage, they'll either choose to switch to a different technique or, in extreme cases, recommend re-piping altogether. The plumber will then attach the hose to your household, sewer or septic system and begin pumping water at an appropriate level for your pipes (up to 35,000 psi). This intense force scourles the walls of your pipes, breaking up the clumps of waste matter, and pushing it down the pipe until gravity takes over and flushes it out of your home.
The power of the water also destroys any tree roots that have infiltrated your sewer line, keeping them from growing back and causing further problems. The plumber can also choose to use a lower water pressure for more delicate areas of your plumbing and sewer system, and they'll often start by snaking a video camera down the line to get a closer look at the problem area.
The best part is that the process doesn't cause any harmful chemicals or debris to enter your home, so it's an eco-friendly option for homeowners who are passionate about protecting their environment. Plus, because it's so efficient, you can cut your cleaning costs by up to four times compared with traditional drain cleaning methods.
It's Affordable
Unlike store-bought drain cleaners, which contain harsh chemicals that can be harmful to people, pets and the environment, Hydro Jetting uses nothing but water. The pressurized water pulverizes and washes away clogs to thoroughly clean pipes and restore the flow of waste. The plumbers who use this technique are committed to exceeding your expectations and will take the time to thoroughly clean every inch of your plumbing and sewer lines.
The cost of Hydro jetting is influenced by the severity and location of the clog, as well as the condition and accessibility of your pipes. Generally, the more difficult it is to access a clog, the more it will cost. However, it is also important to consider how often you need to have your drains cleaned. Putting yourself on a preventative maintenance schedule can cut costs by reducing the frequency of your future drain cleanings.
A serious clog can put your home or business at risk of backups, flooding and other costly repairs. Hydro jetting is a powerful and affordable tool that eliminates the buildup of grease, sludge, and tree roots. It is the best way to clear blocked sewer lines without the need for invasive and expensive methods.
Blocked drains can cause foul odors that are a nuisance to live with, and they can also lead to raw sewage backing up into your home or business. It's best to call a professional plumber as soon as you notice signs of a blockage, rather than trying to fix it yourself with over-the-counter drain cleaners that don't work.
Hydro jetting can be used to clear a wide variety of blockages, including heavy grease buildup, sand and gravel from storm drains, hairline fractures, broken or shifted pipes and even stubborn tree roots. A plumber will begin the process by inserting a camera into the plumbing line to locate and assess the severity of the blockage. They will then attach a specialized nozzle that can withstand high psi force and spray water from all directions.
The powerful stream of water can break up and wash away tree roots that were unable to be removed by a mechanical snake. In addition, it can delay the need for future root removal by up to four times compared to regular drain cleaning.
It's Versatile
Hydro jetting is a green, environmentally friendly way to clean your pipes and drains. Unlike other clog-removal methods that can leave behind chemical residue that is harmful to the environment, hydro jetting simply uses plain water at high pressures. This means that the water is safe for people, animals and plants to drink. There's also no risk of introducing chemicals into the soil or groundwater.
Hydro Jetting is extremely versatile, and can be used to remove clogs in residential and commercial plumbing systems. A plumber can use it to clear sludge, hair, fats, soap scum, mineral deposits, roots and other debris from your drain lines. The plumber can access the piping system using a video camera, which allows them to locate and pinpoint the location and severity of the clog. Then, the plumber inserts a special nozzle attached to a hose that can withstand high water pressure. The nozzle points in the direction of the clog, and the high water pressure blasts it away.
There's no need to break into the walls or dig in the yard to get to the piping, which is an added benefit. The plumber can simply access the clogged pipes from the cleanout, which is usually located in the basement of a home or in the front or back yard of a commercial property.
Because hydro jetting can be used to remove all of the debris and buildup from your pipes, it can prevent future blockages and reduce the likelihood of sudden plumbing problems. It can also help extend the intervals between drain cleaning sessions, reducing long-term maintenance costs.
Hydro jetting is effective at removing clogs and is relatively inexpensive compared to other options. However, it should only be performed by a licensed and trained plumber to avoid any potential damage to the pipes. If your pipes are old or in poor condition, hydro jetting could cause damage. Instead, speak to your plumber about other pipe-cleaning methods that can be used safely.